CBD oil is arguably the most common and popular type of CBD product. This versatile supplement provides all of the benefits of CBD in a form that's well absorbed, cost-effective, convenient, and comes in a wide variety of potencies and flavours.

There are dozens of full-spectrum CBD tinctures available to the British public. However, due to lack of regulation and the rapid growth in CBD's popularity, not all of them have the same level of quality.

This is why we researched and compared different brands and products to come up with a list of the best CBD oils sold in the UK.

These recommendations are based on strict criteria, which include:

Quality of the hemp source
The extraction methods used
Independent third-party lab testing
Manufacturing standards
Reviews, customer feedback, and customer service
Reasonable price per mg of CBD

But before we get started, what exactly is CBD oil.
What is CBD Oil?
CBD oil is made from cannabidiol, a compound found in the cannabis plant, and unlike THC another compound found in the plant, it does not make you 'high'. For CBD oil to be legal in the UK it must contain less than 1 mg of THC in the finished product.
UK's Best CBD Oils
Full Spectrum CBD Oil by CBD Shopy
This UK-made CBD oil from CBD Shopy is one of the best CBD oils we've come across. Third-party tests show that it contains 11 different cannabinoids — one of the widest ranges you'll find.
By comparison, most CBD oils only have about 3-6 cannabinoids. As a result, this CBD oil makes the most of the entourage effect: the synergistic relationship between the many beneficial components of cannabis.
Better yet, this tincture undergoes minimal processing, as highlighted by its high levels of CBDa, the precursor molecule to CBD.
CBD Shopy's full spectrum tincture has a potency of 50 mg or 100 mg per ml, which are both quite strong. It also comes in two flavours: natural (unflavoured) and peppermint.
There's a total of 500 mg or 1000 mg of full-spectrum hemp extract mixed with coconut MCT oil in each 10 ml bottle. The tincture comes with a dropper to allow for precise, non-messy dosing.
CBD Shopy is a one-stop-shop for all your CBD oil needs and also retails over 15 world-leading CBD brands, check out their selection of CBD oil for sale to learn more.

Love CBD Entourage Oil Spray

Love CBD's entourage oil spray is undoubtedly one of the best full-spectrum tinctures made in the UK, infact the 2000mg strength claimed 4th position on our list of strongest CBD oils.
This unique CBD oil is made from multiple strains of hemp to make the most of the entourage effect: the synergistic relationship between the many cannabinoids, terpenes, and other beneficial hemp phytochemicals.
Love CBD's entourage oil is available in three relatively high potencies: 40 mg/ml, 70 mg/ml, and 100 mg/ml, making it easy to find the strength that matches your needs. There's a total of 800, 1400, or 2000 mg of CBD mixed with olive oil in each 20 ml bottle.
Third-party tests show that this high-quality oil contains as many as seven different cannabinoids, including notable amounts of CBDa — the natural form of CBD in the hemp plant before it's broken down by heat. The oil is made from organic hemp grown in the Netherlands, Lithuania, Slovenia, and Croatia without the use of pesticides.
Instead of using a dropper, Love CBD's tincture comes with a spray which makes it easier to apply an exact dose of CBD and prevent leaking. It's also backed by third-party tests for potency and heavy metals.

Endoca Raw CBD Oil

The raw CBD oil from Endoca is an excellent choice because it's as close to natural as possible. What sets this CBD oil apart is that it doesn't undergo any heating or processing.
As a result, it contains significant amounts of CBDa, the parent molecule of CBD that has similar benefits. This tincture is ideal for people who prefer to use products in their most unadulterated, natural form.
Endoca's full-spectrum oil is available in two potent CBD strengths: medium (30 mg/ml) and high (150 mg/ml). These concentrations are enough to meet the needs of the vast majority of people. It contains a total of 300 mg or 1500 mg of CBD dissolved in hemp seed oil in a 10 ml bottle.
Like all of Endoca's products, this tincture is made from high-quality non-GMO, 100% organic Scandinavian hemp that's extracted with CO2, the most advanced CBD extraction method. It's also backed by comprehensive third-party testing results.

Canabidol Raw Cannabis Oil Drops
Canabidol's raw cannabis oil is one of the highest quality tinctures manufactured in the United Kingdom. This full-spectrum CBD oil has a characteristic dark colour and strong hemp taste as it undergoes minimal processing.
Canabidol's raw oil comes in three CBD strengths: 25 mg/ml, 50 mg/ml, and 100 mg/ml. This way, both those new to CBD and more experienced users can find a potency that works for them. Each 10 ml bottle contains 250 mg, 500 mg, or 1000 mg of full-spectrum hemp extract with minimal amounts (<0.2%) of THC.
Like all of the company's products, this CBD oil is made from organic hemp at Canabidol's UK facility. It's tested both in-house and by an independent third-party lab for potency and safety.

Cibdol CBD Oil
Swiss products are associated with high quality and reliability, and Cibdol's CBD oil is no different. The company's tinctures are made through a proprietary manufacturing process, resulting in a high-quality, gold-coloured extract.
Cibdol's CBD oil comes in three potencies: 2.5% (25 mg/ml), 4% (40 mg/ml) and 10% (100 mg/ml), so it's easy to find the potency that fits your individual needs. There's a total of 250 mg, 400 mg, or 1000 mg of CBD alongside olive oil in each 10 ml bottle.

Cibdol sources non-GMO, organic European hemp to create its full-spectrum tinctures and tests its products at every step of the manufacturing process from seed to bottle. The company even requires that its hemp producers test the soil the plants are grown in to make sure it's free of contaminants.
Cibdol's oil is extracted in the company's Swiss laboratories using the most innovative scientific processes, including CO2 extraction — the most advanced way of extracting CBD. Like all of Cibdol's products, this tincture contains exceptionally low levels of THC: less than 0.05%. It's also tested for potency and heavy metals by a third-party laboratory.
Bonus – ZenBears CBD Gummies
For those CBD users who don't enjoy the taste and process of ingesting the typical CBD oil drops above, another popular type of product which is trending in the UK at the moment are CBD gummies.
ZenBears are a British brand which focuses solely on the production of vegan-friendly CBD gummies, right here in the UK. Each of their gummies are pharmaceutically coated with 20mg of broad spectrum CBD, this coating allows the CBD to dissolve in your mouth as you chew and suck on the gummy.

ZenBears claim to be the UK's best rated CBD gummies and to back this claim they have over 110 reviews from verified buyers on their website with an overall score of 4.7/10.
Conclusion
If you're new to CBD oil, we recommend starting with one drop and assess how you feel. If you don't feel any effects after several hours, you can slowly increase your dosage until you start experiencing the desired effects.

However, keep in mind that the effects of CBD are relatively subtle, and some people find that they need to use it for a few days or even weeks before noticing a difference.
LEARN MORE ABOUT CBD OIL, READ THESE..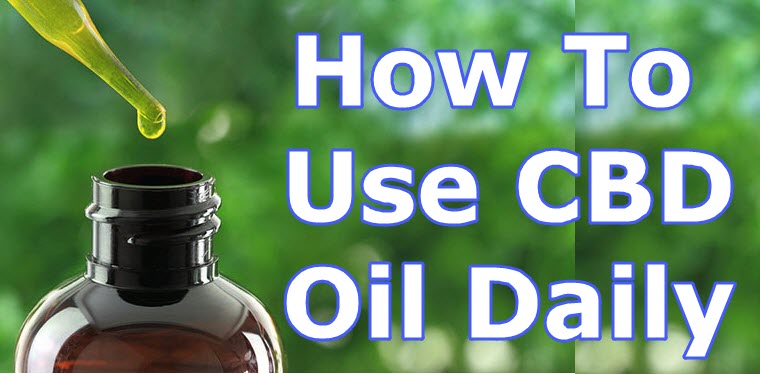 HOW MUCH CBD OIL SHOULD YOU TAKE EVERYDAY? READ THIS.
OR..